~

Passion for gastronomy

~
Unforgettable

gastro

experience
From 2018. we enjoy in cooking and having fun in process. Our guests can enjoy cooking classes, gastro and wine tours, truffle hunting, private dinners and many more.
We work with individuals and groups all over the Istria (Pula, Rovinj, Poreč, Umag, Rabac, Labin, Novigrad…).
Biggest

offer

of

different

food

programs

in

Istria
We arrange cooking classes, wine tasting, food and gastro tours, private dinners, wine tours, rent a chef, catering and many more.
Our team of chefs, nutritionist and guides provides our guests memorable experience. We organize our activities through the whole Istria in the cities like Pula, Poreč, Rovinj, Buje, Umag, Rabac and many others.
Local food
During our activities you will learn how to eat and live like an Istrian.
Best places in Istria
We will take you to the most beautiful places in whole Istria.
Cooking lover with experience over 20 years in gastronomy. His major influence was in London where he practiced his craft. Guests describes his cooking classes as great mixture of cooking, enjoying food and having fun in process.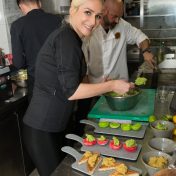 Food lover, chef, nutritionist specialst and advocate of healthy living. She got her knowledge on prestige school in Haag, Netherlands. She loves to share her gastro experience on cooking classes.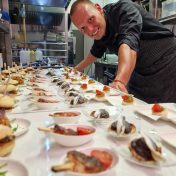 Chef with 10 year experience in restaurant kitchens. Worked all over the world in places such USA, Spain, Serbia...
E-mail us
istriacooking@gmail.com
Call us for more information
+ 385 91 615 6086 (call ,text, WhatsApp, Viber)
~

Faq - Frequently asked question

~
Read

the

answers

on

questions

we

most

frequently

have
In general no. However, send us email or give us a call an we can arrange something 🙂
All activities are fixed in terms of programs, duration and price. However, if you have personalized request feel free to contact us.
Yes, we can arrange all of specific diet regimes. They include vegan, vegetarian, halal, kosher and gluten free options.