~

Passion for gastronomy

~
Catering

as

you

wish
Catering has been our love since 2016, when we expanded our hospitality business to catering services.
Since then, we have collaborated with over 100 clients, from corporations, delegations, institutions, companies, media, organizations, associations…
We went all over Croatia, so we did catering in Rijeka, Pula, Zagreb, Opatija, Zagreb, Crikvenica, Dubrovnik…
Our team currently has 8 people: head chef, chef, waiter and waiter, and the same is able to organize a menu according to your wishes (Istrian, Mediterranean, continental, vegan, halal…). 
Top

service

tailored

to

your

needs
We organize catering of different sizes (from 10 to 2,000 people) for different purposes (business, corporate, sports, gastronomy, celebrations, events, weddings…).
We will adapt to your needs and create a menu in accordance with your wishes, budget and purpose of the event.
Local and international food
No matter what type of food you want to be served for catering we got you. Maybe you prefer mediterranean or Istrian? Or your choice is Asian or Scandinavian?
All diets included
Vegan, halal, koser, plant based, vegetarian, gluten free, lactose free...You name it, we have it 🙂
Creating

unique

gastro

experience
Cooking lover with experience over 20 years in gastronomy. His major influence was in London where he practiced his craft and owned an restaurant.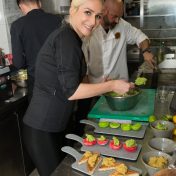 Food lover, nutritionist specialst and advocate of healthy living. She got her knowledge on prestige school in Haag, Netherlands.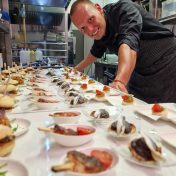 Chef with 10 year experience in restaurant kitchens. Worked all over the world in places such USA, Spain, Serbia...
E-mail us
istriacooking@gmail.com
Call us for more information
+ 385 91 615 6086 (call ,text, WhatsApp, Viber)
~

Faq - Frequently asked question

~
Read

the

answers

on

questions

we

most

frequently

have
You can give as a call or text us on +385 91 6156086 (WhatsApp and Viber included). Or just e-mail us on istriacooking@gmail.com
All of our serices are available in whole Croatia. We had opportunity to work in Pula, Rijeka, Zagreb, Split, Dubrovnik, Opatija, Umag, Poreč, Rovinj, Zadar, Rabac and many islands.
Yes. All of our catering services are tailored made. You just need to tell us your needs and the rest is on us.
Yes, we can arrange all of specific diet regimes. They include vegan, vegetarian, halal, kosher, gluten free options and many more.