Istria Cooking representatives have had a pleasure of participating in many guest lectures in Croatia and wider.
This is how our founder Deniz Zembo, once again passed on his knowledge to the young generations. This time it was a visit to the Faculty of Tourism and Hospitality Management.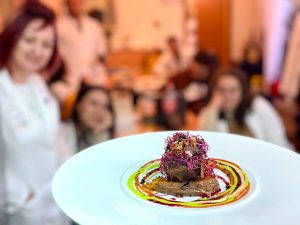 Food and beverage department specialists
The guest lecture took place within the specialist course of the Department of Food and Beverage, which was held by prof. Slobodan Ivanovic. The topic was "Modern approaches in the preparation of traditional, gluten-free, vegetarian and macrobiotic dishes in catering".
Creative dishes
Attendees were able to see first hand how the renowned chef creates dishes that take their breath away.
Istria Cooking platform
Istria Cooking has a biggest offer of different food and cooking programs in Istria. We arrange cooking classes, wine tasting, food and gastro tours, VIP dinners, wine and walk tour, rent a chef and many more.
Our team of chefs, nutritionist and guides provides our guests memorable experience. We organize our activities through the whole Istria in the cities like Pula, Poreč, Rovinj, Buje, Umag, Rabac and many others.
During our activities you will learn how to eat and live like an Istrian. For reservations and more informations contact us via mobile, e-mail or app (WhatsApp, Viber) via this link.